"The transformation and adaptation of industries and projects, particularly within the Gulf Cooperation Council (GCC) countries, in response to evolving global trends and challenges"
SBS Swiss Business School – University of Applied Sciences Institute hosted a successful online Research Conference (SBS-RC23) on "Regional Business and Urban Development Challenges" on Friday, October 20, 2023.
The SBS-RC23 conference provided an invaluable forum for academics, the business community, and policy-makers to explore the enablers and obstacles faced by regional businesses in Switzerland and around the world, in conjunction with urban development and sustainability challenges. The event featured engaging keynote speeches, insightful panel discussions, and stimulating academic paper presentation sessions.
We extend our appreciation to all academics and practitioners who attended the conference, with or without paper presentations. Special recognition goes to the doctoral research students (Ph.D. and DBA) for their outstanding contributions. We've issued attendance certificates to all registered participants, and academic paper presenters will receive presentation certificates.
We welcomed submissions from various business areas related to:
Regional business and regional economics
Regional business developments in Zurich and Switzerland
Urban development
Sustainability practices and challenges by regional businesses
Digital transformation challenges for regional businesses
Competitive dynamics for regional businesses
Supply chains for regional businesses
Innovation activity by regional businesses
Urban development and transportation
Urban development and energy and environmental challenges
The conference successfully took place online, bringing together experts and thought leaders in the field.
Important Deadlines (for reference):
24 September 2023: Submission of 500-word abstracts or full papers (*)
01 October 2023: Acceptance/Rejection notification to authors
08 October 2023: Deadline for registration for academic paper presenters
13 October 2023: Deadline for registration for participants without academic paper presentation
We appreciate the valuable contributions of all participants and authors who made the conference a success. If you have any inquiries or require additional information, please feel free to reach out to us at [your contact email].
Thank you for being a part of SBS-RC23, and we look forward to future collaborative opportunities.
SBS Swiss Business School – Where Knowledge Meets Innovation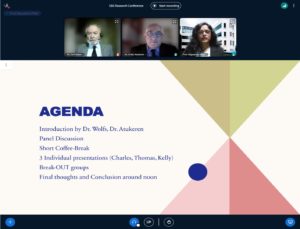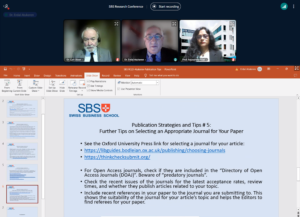 One of SBS Swiss Business School values is Life Long Learning. It is important to us that our researchers, faculty, staff, alumni, and students can continue to learn.
That's why we offer e-learning webinars which are accessible via the SBS Intranet.