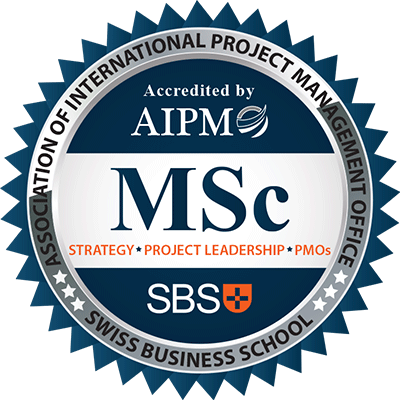 AIPMO has partnered with the SBS Swiss Business School to offer the first MSc in the world for professionals who need to understand Strategy, Project Leadership and PMOs.
SBS Swiss Business School is one of the top business schools in Switzerland. The MSc in Strategy, Project Leadership and PMOs has been created by AIPMO and the program is jointly delivered by professors from both AIPMO and the SBS Swiss Business School.
This unique program uses the top professors in the world to deliver project, leadership and PMOs modules. Professor Ralf Müller, Professor Aaron Shenhar and Professor Robert Joslin teach alongside SBS Swiss Business School professors.
The SBS Swiss Business School Master of Science (MSc) in Strategy, Project Leadership and PMOs is a part-time, one-year, 90-ECTS program, which provides an in-depth examination of global strategy, PMOs, projects, programs and portfolios ranging from complexity, mega projects, competencies to cross-cultural leadership. The language of instruction is English.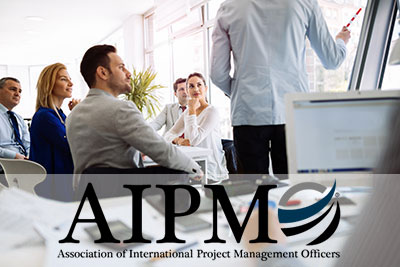 The SBS Swiss Business School MSc in Strategy, Project Leadership and PMOs is a direct-entry program requiring no previous professional or work experience. Its utilizes an innovative approach to team-based learning which reflects today's progressive workplace. The SBS Swiss Business School and AIPMO's joint MSc will open the door to the international career opportunities by allowing you to understand, create and lead complex operational and project related areas at the highest levels.
Aside from the regular in-class sessions and coursework, SBS Swiss Business School also arranges for its students, value-added activities including CV Writing and HR Workshops; Guest Speakers; Language Lessons; Company Visits; Career Opportunities, and more. Students benefit from these activities by learning more about industries, companies and business practices that are involved in these events, and through extending their networks and realizing opportunities that are in line with their career goals.
The SBS Swiss Business School's joint MSc is a one year program:
First Year
In a years' time, students will complete the academic courses and studies. This period concludes with the submission and defense of a thesis in front of a panel jury. Students are encouraged to choose a business-related subject linked to their prospective career. This project is mentored by an SBS Swiss Business School approved supervisor or instructor.
Students that have taken and successfully passed AIPMO's Master certification (IPMO-M) will receive 3 credits to the MSc.
Students who successfully complete the academic and professional experience requirements will be awarded the degree of Master of Science in Strategy, Project Leadership and PMOs from the SBS Swiss Business School and accredited by AIPMO.
---
Benefits
Design transnational strategies for both strategic formulation and strategic execution
Understand the complexities and challenge of the project to world and know how to navigate through the necessary complexity of portfolio and program management
Learn the frameworks and approach to design and establish the production side of the project world from the perspective in Enterprise PMOs
Program Location
SBS Swiss Business School
Flughafenstrasse 3
CH-8302 Kloten-Zurich
Switzerland
---
Admission Requirements
Undergraduate degree (Bachelor) from a recognized university or equivalent
Successful completion of SBS Admissions Exam
Fluency in English: TOEFL IBT 90 or better, IELTS 6.5 band score or better (if English is not your native language)
Successful completion of a personal interview with our Admissions Officer, either in person or by phone/Skype
Work experience is not compulsory. Students from all backgrounds are welcome to apply.
---
Final Thesis
Students are encouraged to choose a subject linked to their future career. The project is conducted under the supervision of a lecturer.
---
Program Structure
Term 1
PRM504 - Project Management competencies
MAC510 - International Accounting and FSA
MOB502 - Sustainable Leadership and Organization
PRM507 - Enterprise PMOs
Term 2
MCN520 - Cross-Cultural Communication
MET590 - Entrepreneurship and Innnovation
PRM511 - Project, Program, Portfolio frameworks/governance structures
MHR530 - Human Resource Management
Term 3
MSN500 - Strategic Management
PRM525 - Complexity and Mega Projects
PRM700 - Business Intelligence
PRM720 - Applied Project Management
Term 4
RES502 - Workshops, Forums, Seminar
THE700 - Research Methods in Management
MBG601 - Business Project Game
THE755 - Independent Research Project
---
Academic Calendars
MSc Academic Calendar 2019 - 2020
---
How to Apply
Interested in the Master of Science in International Business at SBS Swiss Business School?
Apply Online
(Note: only online applicants are considered)

Applicants must provide the following documentation:
Completed and duly signed application form
Complete curriculum vitae (CV)
Certified copy of bachelor's degree
Official academic transcripts
Proof of English proficiency (TOEFL, IELTS, or equivalent)
Two reference letters (professional or academic)
Non-refundable application fee of chf 150. -
One high-resolution picture (passport photo style) in .JPG, .PNG, or .GIF format
---
Tuition Fees
| | |
| --- | --- |
| Application fee | CHF 150.- |
| Payment upon acceptance* | CHF 3'500.- |
| Per Term (4 Terms) | CHF 6'500.- |
| Total tuition fees | CHF 29'650.- |
*Part of the program tuition fees. Only refundable in case of Student Visa rejection by the Swiss Immigration Authorities
These prices are valid from 01.05.2017